About SoundAcoustics Acoustic panels
SoundAcoustics are proudly Australian made, with all product design, research, development and manufacturing taking place in Australia. We are passionate about providing acoustic foam products that offer the very best in performance and design, as well as providing simple and practical installation solutions. We are based in Melbourne Australia but have experienced installers in Brisbane, Sydney and Adelaide.
Our extensive list of clients include:
Global Television
Graeme Goble (Little River Band)
Fremantle Media
Australian Radio Network
Melbourne Conservatorium of Music
Haileybury College
Melbourne University
Ansell Australia
Swinburne Secondary College
Endemol
Lite'N'Easy
Doncaster Secondary College
JMC Academy
Research and acoustic testing takes place at the RMIT University NATA accredited acoustic laboratory.
SoundAcoustics began manufacturing acoustic foam products in 2004, with the introduction of the unique 'Staple T' hidden fixing channel which provides a quick and simple installation alternative to traditional adhesive. More importantly, the introduction of the 'Staple T' fixing channel allowed thick section, high density bass traps to be quickly and easily installed in room locations such as ceiling corners. The "Staple T" is now an integral part of SoundAcoustics products across the range.
HA600-75 Information / Installation video

In addition to laboratory testing, we undertake continual acoustic testing in the field, assessing the performance of SoundAcoustics products in "real world" situations. We are constantly researching new designs that may offer improved performance. Recently SoundAcoustics have developed the innovative HybridAcoustic HA600/75 acoustic foam panel. More than two years in development, the HA600/75  absorber/diffuser combines remarkable low frequency absorption with selective high frequency diffusion.
Installation of acoustic treatment requires careful consideration of many factors. In most cases it is advisable to start with a moderate treatment plan that can be added to if necessary.
Manufactured from the highest quality combustion modified (fire retardant) high density acoustic foam, all SoundAcoustics products are backed by a 10 year factory warranty.
We can offer advice and assistance, in order to achieve the best possible outcome.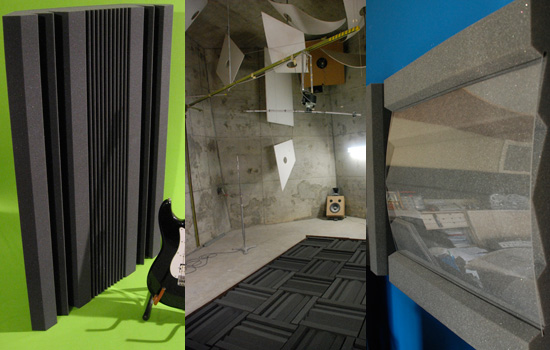 SoundAcoustics acoustic panels are applied in recording studios, broadcast facilities, home recording studios, music rooms, home theatre and media rooms, auditoriums, hi-fi retailers, listening rooms and specialist acoustic environments. SoundAcoustics also design, supply and install acoustic panels for industrial noise control.
Not only are SoundAcoustics panels visually stunning, they provide a cost effective and simple acoustic treatment solution.