Product Description
Corner Bass Trap LF70 – BEAR series: featuring the Bass Enhanced Absorption Reflector (BEAR)

Our aim was to design a high performance bass trap that would outperform bass traps costing many times the price. The result is the LF70 – BEAR corner bass trap, featuring a unique reflective diffuser insert which significantly increases low frequency absorption.  The result is an effective doubling of absorption below 100hz over a conventional acoustic foam bass trap.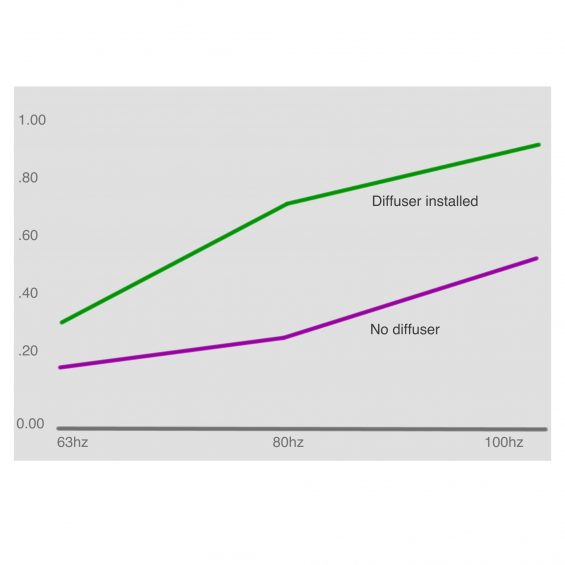 We first started experimenting with reflective inserts in development of the HA600/75 wall panel, released in 2008.  We discovered that a diffuser insert creates resonance within the panel that enhances low frequency attenuation. The HA600/75 has been a remarkable success, now commonly seen in recording studios both in Australia and worldwide. A reflective diffuser insert performs a dual purpose by partially reflecting high frequencies whilst significantly improving low frequency absorption.
Research and Development
From our research and development of the HA600/75 hybrid panel, we thought perhaps a similar approach could be applied to a corner bass trap. Acoustic laboratory testing revealed that by incorporating a reflective insert of the correct size and mass the low frequency absorption of the bass trap can be significantly improved.  The flexible timber reflective insert achieves an approximate doubling of the absorption coefficients between 70 and 120hz, a significant improvement. As with the hA600/75, there is the added benefit of partial reflection of high frequencies. This allows a room to retain a natural sense of space, which is an important consideration when designing an acoustic treatment.  The BEAR series bass traps also provide a unique level of flexibility. If more high frequency absorption is desired, the diffuser insert can be easily removed.  And of course we couldn't resist the BEAR acronym – makes it a BEAR trap!
Testing the BEAR series LF70 bass trap in controlled laboratory conditions (below)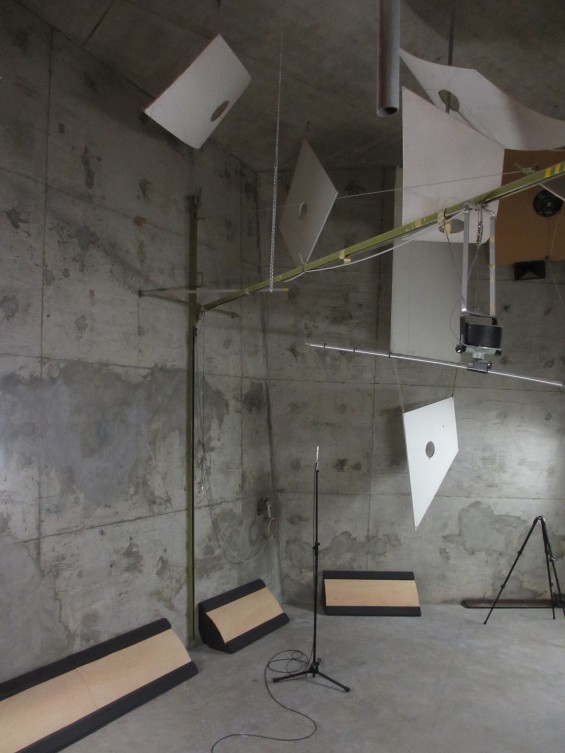 Installation of the LF70 bass trap is incredibly easy utilising the "Staple T" channel (see below) unique to Sound Acoustic products. The bass trap can be installed with either staple gun, removable hooks (such as 3M Command hooks) or with water based builders adhesive.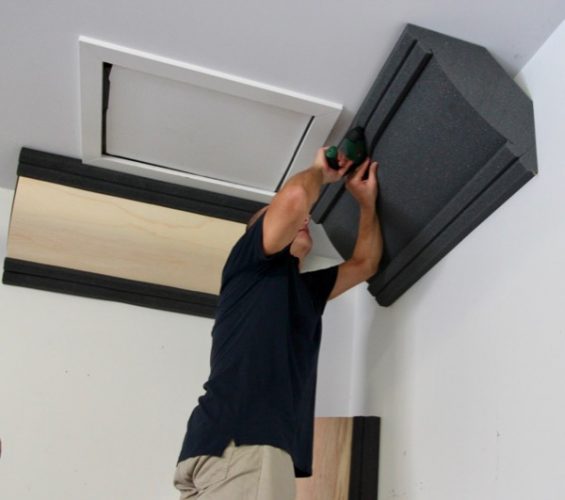 The LF70 comes standard with a raw timber flexible plywood insert that can be painted, stained or varnished without impacting the acoustic performance of the trap.
Dimensions: 1000mm high 520mm across front face
Performance: Effective absorption down to 70hz
The LF70 is also the ideal partner for the HA600-75 acoustic, working together to provide a balanced professional acoustic treatment.