Product Description
*SUPER SPECIAL* BOX OF 8 with TIMBER INSERTS  $450
Broadband absorption combined with diffusion – allows a room to still sound natural while controlling problem frequencies
Peak absorption between 150hz and 1 Khz
50/50 split absorption and diffusion above 1 Khz – allows a room to sound natural
600 x 600 x 75mm
Controls problematic muddy frequencies
Diffuser insert can be easily removed to provide just broadband absorption
Natural timber or perspex insert
Creates a modern studio look
Simple installation with either staple gun, 3M Command hooks or velcro tape
Perfectly matches the LF70 corner bass trap for a balanced acoustic treatment
Made in Australia / 10 year warranty
We have recently upgraded the HA600/75 to the Mark11 version which has a number of significant improvements. The panel now has increased volume with a smooth radius under the insert. The Staple T fixing channels have been moved to the side panels to provide easier installation with either a staple gun or 3M Command removable hooks. The panel also has recessed channels on the rear to allow the fitting of adhesive tabs as an option.
The patented Hybrid Absorber Diffuser HA600-75 is a unique acoustic panel that can function purely as an acoustic absorber or alternatively, as a hybrid diffuser/absorber, providing the flexibility to fine tune your acoustic environment.
The Hybrid Absorber Diffuser HA600-75 acoustic panel is designed to receive a polycarbonate diffuser insert (or flexiply plywood*), for the purpose of modifying the acoustic characteristics of the panel. The diffuser forms a smooth radius, effectively spreading high frequency reflections. The diffuser insert also provides the additional benefit of significantly extending the low frequency absorption of the panel, with useful absorption down to 150hz.
In professional studios, the acoustic treatment allows the room to retain a natural sense of space. An overly "dead" space is not desirable, and can be a side effect of using traditional absorber type acoustic panels. Professional studios are typically fitted with timber panels fitted with slots, which partially reflect high frequencies but absorb lower frequencies. The Hybrid Absorber Diffuser HA600-75 acoustic panel has been designed to emulate the acoustic performance of a well designed slot resonator panel. The HA600-75 acoustic panel allows the home studio owner to achieve a similar acoustic environment to professional studios.
HA600/75 dimensions are 600mm x 600mm x 75mm.
RMIT Acoustic Lab Test Results – Peak Absoprtion between 150Hz and 1 Khz  highlighted Pink
Partial Diffusion above 1 Khz highlighted Green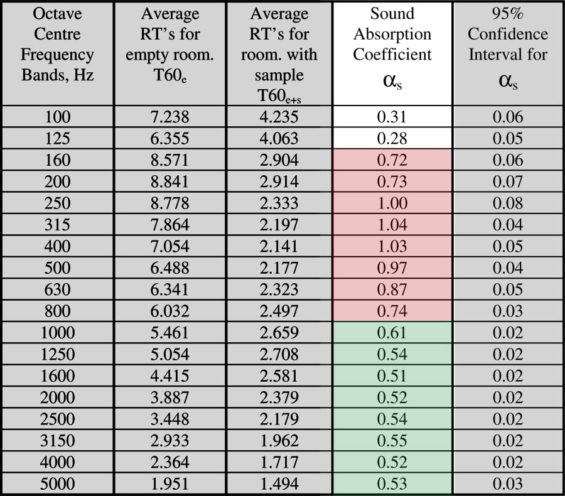 *PLEASE NOTE: Variations in colour and appearance of the grey acoustic foam varies slightly from run to run. We do our best to match panels and achieve consistency across an order, but not always possible. If you require absolute colour consistency and finish we recommend having the panels flock coated, which is a durable "suede like"finish. It is a colour fast quality finish. Typically adds a cost of around 30% per panel. The standard "off the shelf" colour is charcoal grey. Please contact

[email protected]

to order*